OUR FOUNDATION
Progressive Black Men was established on the campus of Florida State University by twelve minority students who formed a friendship while enrolled in the Summer Enrichment Program at the university. Their similar interest in academic achievement, self-improvement and a commitment to help others reach their potential evolved in them forming an organization that reflected their values.
On November 27, 1989 Progressive Black Men was officially established.
The initial leadership, President Cesar Rodriguez and Vice President Osbert Walker, along with the other original members, devoted countless hours to the new organization. PROMOTING POSITIVE IMAGES OF BLACK MEN was a central theme that guided the development of Progressive Black Men, and remains a pillar of the organization today. The founding members of Progressive Black Men established and exemplified the fundamental principles of the organization: Academic Excellence, Communal Support, and Fellowship of Brothers.
Within the first two years, Progressive Black Men organized and nurtured a Cub Scout Troop in Frenchtown, a small African American community in the Tallahassee area, and is considered one of the proudest projects during PBM's early years. Members of the organization helped tutor and mentor the young scouts to prepare them for success in school and life. Progressive Black Men also held different social events for the entire institution, including a Physical Plant Appreciation Day, the first of its kind, and a Black Faculty Appreciation Day. These projects demonstrated the organization's commitment to the development of the African American community on and off campus.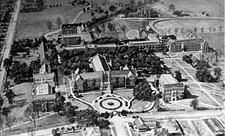 In the early 90's, an environment of anti-Affirmative Action and anti- minority students organizing was rather prevalent during the initial days of Progressive Black Men. Although Florida State University was very supportive of PBM's ideology, the response of the student body was varied. PBM experienced support, indifference, and, at times, hostility. This varied response extended to the greater Tallahassee community. Many people questioned the purpose of Progressive Black Men and the need for Black Men to organize in this integrated society.
The first vice president, Osbert Walker, received a threatening phone call from a self-declared member of the Ku Klux Klan; also a White Student Union was formed at the University of Florida in response to minority specific organization such as Progressive Black Men. The Union collapsed soon afterwards and through all the adversity the members stayed focused on their principles and goals and Progressive Black Men withstood the test of time. In 1993, Progressive Black Men became a member of the FSU Seminole Torchbearers Council of 100 Student Leaders and was furnished with an office space and received school allocations to assist with service programs and campus event.
Progressive Black Men has grown considerably since its inception. In the summer of 2000 the organization signed the official Letters of Incorporation. Post Incorporation, Progressive Black Men, Inc. has begun to expand and spread its ideology nationally.
2000 The Florida A&M University Chapter was established
2002 The First National Board was established
2003 The University of Florida and University of South Florida Chapters were established
2003 The First National Conference was held in Tallahassee, FL
2006 St. Leo University established
2008 Howard University established
2012 Florida Atlantic University established
Through the organization's slow yet remarkable growth, Progressive Black Men, Inc. has stayed focused on our mission: TO ERADICATE NEGATIVE STEREOTYPES PLACED UPON THOSE OF AFRICAN DESCENT, especially AFRICAN AMERICAN MEN. With this in mind, we will always work to reconstruct and redefine the image of the Black Male through volunteer work, humanitarian aid, and community service. This goal is accomplished through our motto: "COLLECTIVE KNOWLEDGE, COLLECTIVE EFFORT, COLLECTIVE STRENGTH."